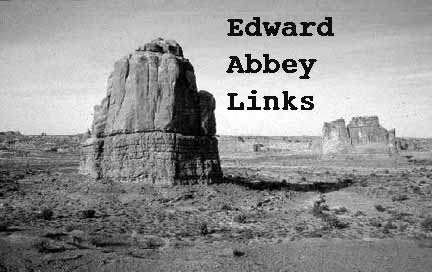 This is an overview of Arches National Park taken by R. Douglas Ramsey of Utah State University's
Department of Geography and Earth Resources
. Edward Abbey worked as a ranger in what was then Arches National Monument in the late 1950s and early 1960s.
This biographical sketch of Edward Abbey appears on Abbey's Web.
---

Abbey's Web - A Comprehensive Abbey Page
Abbey's Web is edited by Christer Lindh in Sweden. This is the central site for Abbey material. There are book reviews, biographies, and information about Abbey's politics.

Introduction: Who was Edward Abbey?

Biography: His life and death

Bibliography: Books by and about Abbey

Historical Marker: The historical marker near Abbey's birthplace in Pennsylvania. You can even order a refrigerator magnet of the marker!

Quotes: Quotes from the ever controversial Abbey

---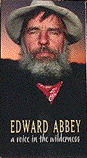 This site is hosted by a video production company that has produced a documentary film about Abbey. The very kind folks there have allowed us to reprint the transcript of the film and post the film itself in Real Player format.
Abbey video in Real Player format
---
Douglas Brinkley comments on Abbey on the 25th anniversary of the publication of "The Monkey Wrench Gang." You will need to have the Real Player lug-in to listen to this program.
---

Living on Earth Homepage
Transcript of broadcast about Abbey

This is a nice appreciation of Abbey from a Living On Earth broadcast that aired on Jan. 19, 1996. The interview starts about 1/3rd of the way into the transcript.
---
Abbey & Cowboys
Cowboy and writer Lyman Hafen interviews and talks about environmentalist and writer Edward Abbey. As you read this, look for the many contradictions within Abbey's character. Abbey clearly has sympathy for the old fashioned cowboy, yet he is highly critical of ranching. No one has ever accused Abbey of being overly consistent in his views
Abbey gave his view of the modern cowboy in his early novel The Brave Cowboy. The book was subsequently made into an excellent movie starring Kirk Douglas called Lonely are the Brave.
---
Remembrance of Edward Abbey by the inspiration for Hayduke in Abbey's novel The Monkey Wrench Gang from Outside magazine.

This is a link to a Southwest travel page put together by a gentleman with a Ph.D in chemistry who lives in England. It contains lots of good links for travel in the Southwest as well as many nice photos.
---
Copyright 2007, Ralph E. Hanson
Updated 2/17/07