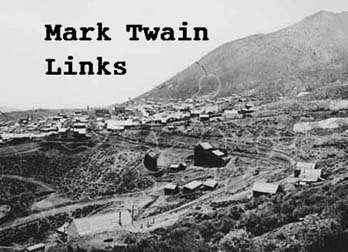 View of Virginia City, Nev., from a nearby hillside, 1867--68. By O'Sullivan. Mark Twain wrote for the Territorial Enterprise in Virginia City from 18?? to 18??. Photo from the National Archives Collection
#77-KN-93 1/2 .
---
http://www.theatlantic.com/cgi-bin/o/unbound/flashbks/twain.htm
In the summer of 2001, the Atlantic Monthly found an original manuscript of Twain's that had been lost and never published. The Atlantic published the story and used the occasion as an excuse to reprint a number of Twain's earlier pieces for the magazine on its web site. (Unfortunately, the newly found story is not published on the web site.)
---
This collection of Twain's papers at the Bancroft Library, University of California, Berkeley, is not available on-line, but the site does contain databases about the collection, research resources, and a couple of on-line exhibitions.
---
Inventing Mark Twain
---

About.com Twain Site
This is a commercial site with a lot of good references run by Jim Zwick.
Introduction to the Mark Twain Gallery: Did a white-haired, white-suited humorist write Tom Sawyer and Huckleberry Finn? A photo gallery of Mark Twain's life, the places he lived, his family, and close associates allows us to compare our image of Twain with the photographic record.
The Oxford Mark Twain: A review of the recent 29-volume set of facsimile first editions.
Mark Twain and Heaven's Gate? Recent speculation has attempted to tie Twain's writings to the cult's bizarre behavior.
Mark Twain Biographical material
About.com Guide to Roughing It: -- Roughing It is Mark Twain's account of his time spent in the West during and after the Civil War. It was during this time that Twain worked as a journalist for The Territorial Enterprise, one of the leading newspapers in the West at the time. This contains links to many useful maps and photos relating to Roughing It along with an e-text of the book and related criticism.
Mark Twain's Civil War: Twain went west during the time period covered by Roughing It in order to get away from the Civil War. This link discusses Twain's military service during the Civil War and his subsequent coyness on the subject.
Excerpts from Paine's Mark Twain: A Biography : This links to Chapters 31-54 of Paine's book, which deal with Twain's life during the same time period covered by Roughing It. I have also included links to several specific chapters that deal with the time Twain worked for the newspaper The Territorial Enterprise.
In this chapter Twain gives up on being a miner and goes back to work in his original trade -- journalism. He is employed by the Territorial Enterprise, which Hoffman calls "the finest newspaper between Missouri and California." The paper printed a wide range of articles that can only be considered fiction (or entertainment), but the articles that were intended to be straight journalism were by most accounts considered to be factual and accurate.
This chapter deals with the hoaxes (or "quaints") that Twain quickly became popular for writing. The biography, published in 1912 (two years after Twain's death), notes that none of his articles from the Enterprise survived, but today there has been a substantial number of them collected.

Read, for example, the story of "The Petrified Man" reprinted at Barbara Schmidt's web page.

The following story is one of Twain's most famous hoaxes. In it, he tells a true story of corruption in the San Francisco market. But he hides the charges in a satirical story about a fictional massacre. But the satire was subtle enough that few readers recognized it as such, and the story was widely reprinted as fact.
This chapter gives something of the serious side of Mark Twain.
Here we see Sam Clemens' adoption of the Mark Twain pen name during his coverage of the Nevada legislature.

The Paine biography gives Twain's "official" version of how Clemens started using the name. Andrew Hoffman gives a somewhat different account:

People who knew Sam in Nevada said that he arrived at the pseudonym by entering a saloon and calling out in the leadsman's singsong intonation "Mark twain" -- meaning the bartender should pour two drinks and mark them down on the debit ledger. [Mark twain was call indicating the depth of the river. REH] Sam wrote in his first letter from Carson at the end of January 1863, "The Unreliable intruded himself upon me in his cordial way, and said, 'How are you, Mark, old boy? When d'you come down?'" -- implying that his pseudonym already existed for him as a nickname. [The Unreliable was a friend and fellow journalist. REH] Later, and throughout his life, Mark Twain maintained that he had adopted his pseudonym from Captain Isaiah Sellers.... According to Twain, Sellers had used the name Mark Twain and when Sellers died, Sam had appropriated his pen name. Unfortunately, the name Mark Twain does not appear in any newspaper prior to Sam Clemens' use of it, and Sellers did not die until months after Sam first used the name. Sam began telling his version of the origin of his pen name a decade after he first used it and, despite witnesses' testimony in favor of its barroom roots, Mark Twain steadfastly adhered to this fabrication throughout his career (Hoffman 1997, 76).
This chapter continues with Twain's time at the Enterprise and his further use of "inventions."
This chapter deals with the battles of wit that took place between various reporters and papers at the time. Twain, not surprisingly, was a central figure in this. Here are several columns from his mock battles with his journalist friend Clement Rice, otherwise known as "The Unreliable."
Twain somewhat whitewashes his departure from Nevada in Roughing It. The Paine biography, however, gives a somewhat better picture of these events. In RI, Twain claims he went to San Francisco for a change of scenery. But the Paine biography points out that Twain was, in fact, avoiding a duel.
---

Mark Twain in His Times -- University of Virginia
This is one of the best Twain site on the web, maintained by University of Virginia.
Sam Clemens as Mark Twain
Mark Twain was arguably Sam Clemens greatest creation. This link looks at a range of issues on how Clemens created his alternate personae.
Mark Twain on Stage
While Sam Clemens was out West, he made much of his living by performing on stage. This link takes you to a range of materials about his lectures as Mark Twain.
Mark Twain's Voice
We don't have any recordings of Twain's actual voice, but here is a page with one actor's performance of some of Twain's material. Be forewarned, downloading the audio clip will take quite some time.
---
Transcript of interview with Shelley Fisher Fishkin
Leading Twain scholar Shelley Fisher Fishkin answers questions on NewsHour (April 11, 1997) about Twain's influence and racial issues addressed in his books. Those of you who either loved or hated Huck Finn should follow this link.
---
This is a page associated with the Mark Twain Forum mailing list. It has book reviews, photos, links and archives of the discussion group.
---

Twain's articles and columns from the Territorial Enterprise
This is a fantastic page with lots of original material, including dozens of Twain's articles from the Territorial Enterprise.
Mark Twain in The New York Times
Mark Twain's name appeared countless times in the pages of The New York Times newspaper throughout his lifetime and for years after his death. This link will take you to a significant number of these articles collected by Barbara Schmidt, though they represent only a small fraction of the media coverage Twain and his family received from the New York press. Included are some of Twain's own letters, speeches and short stories.
---

Take a virtual visit to the Twain house in Hartford, Connecticut
---

Peter Salwen's Mark Twain page
This page has several articles about Twain as well as a number of good links.
---
Copyright 2001, Ralph E. Hanson
Updated 8/19/01