Updated Three Times a Week
Looking for Student Blogs
I'm always looking for links to blogs being written by student journalists. If you have one, or know someone who does, drop me a note!
Saturday - March 31, 2007
Are You Listening to NPR's On The Media?
Every week NPR's On The Media has a great round-up of audio stories about the mass media in all its varied forms, though it does focus heavily on press issues. The show also has a great podcast, which you can subscribe to through iTunes; and a great web site, that has downloads of the show and transcripts of the individual stories. Here's a sampling of stories that ran in March:
Thursday - March 29, 2007
Cancer Sucks Dept. - Cancer Doesn't Care What Your Politics Are
Regardless of what you think of his boss's politics, presidential press secretary Tony Snow is generally seen as a breath of fresh air among the Washington press corps. He's willing to engage the press, as a former Fox commentator he understands what the press wants and needs, and he seems to have a sense of humor. So it was a low blow this week when he joined Elizabeth Edwards as a card-carrying member of the cancer relapse club. Here's best wishes to both. Because cancer sucks.
Tuesday - March 27, 2007
50,000 Watch Dept. - It's Journalism's Favorite Number!
50,000 is just the right number when you want something to be big, but not too big! What have journalists found 50,000 of lately?
Saturday - March 24, 2007
Sins of the Father Dept. - Why New Media Isn't Always Better
Lots of talk these days about convergence and new media, why the web is the place for news that's going to displace old dead tree media, broadcast media, and everything else. New media synergy will bring together the depth of text, an abundance of photos, audio, and video. You get all of the advantages of the old media in one package.
But sometimes you get reverse synergy - where you get the worst of the old media in one new package. A prime example of this happened this week. The web site Politico set off a shock wave across the media community by announcing that John Edwards would be suspending his presidential campaign while his wife fights a return of her breast cancer. The only problem was that the story, posted an hour or so before his press conference, was wrong. Instead, Edwards announced that his campaign would be carrying on. The story got picked up by news outlet after news outlet. Each of which repeated the Politico story rather than confirming it for themselves.
The corrections were out relatively quickly. Politico was very clear and public about their error, and it's generally considered to be a pretty good source of Capitol Hill news (Politico also has a daily dead-tree edition). But this does illustrate how the rapid spread of news that used to happen primarily from broadcast operations can now happen with print outlets as well. Thanks to Fishbowl DC for many of the links in this entry.
Thursday - March 22, 2007
How YouTube Is Changing The Face Of The Presidential Race
The YouTube video starts out instantly familiar. Apple's iconic "1984" Super Bowl commercial featuring dark Orwellian imagery created by famed director Ridley Scott streams out.
But what's going on here? Instead of television screens filled with Big Brother spouting ideology at the colorless marching drones, it's Hillary Clinton's face and voice from her presidential campaign announcement video. At the close of the video comes the text, "On January 14th, the Democratic primary will begin. And you'll see why 2008 won't be like "1984." The one-minute clip then ends with a letter "O" stylized to look something like the multicolor Apple logo, with the web address of rival Democratic presidential hopeful Barack Obama.
The mash-up video would seem to be from Obama's campaign, though of course it isn't. But it's a fascinating look at how user created video sites such as YouTube have the potential to have a major effect on the 2008 presidential campaign. You have a zero-cost distribution network where you get people enthralled by the video to distribute it virally through blogs and e-mails. (Hmmm…. It seems to be working!) Messages are going out that no candidate has financed or approved.
For two weeks the video was been one of the hottest user-created videos on the web. As of March 21, it had been viewed 1.57 million times since it was posted on March 5.
There was also been endless speculation about who created it, and just as importantly, Why? The user name of the person who posted the video was ParkRidge 47, a subtle poke at Senator Clinton , who was born in 1947 and was raised in the Park Ridge, Illinois area.
The response to the video was fascinating. Obama, appearing on the Larry King Show on Monday denied having anything to do with the video, but he spoke admiringly about it:
"[W]e knew nothing about it. I just saw it for the first time. And, you know, one of the things about the Internet is that people generate all kinds of stuff. In some ways, it's -- it's the democratization of the campaign process.
"But it's not something that we had anything to do with or were aware of and that frankly, given what it looks like, we don't have the technical capacity to create something like that. It's pretty extraordinary."
The accusations were all over the place as to who had created it. Of course, some looked to the Obama campaign, while others accused Republican activist groups similar to the Swiftboat Veterans for Truth (who helped sink John Kerry's presidential campaign in 2004).
According to the Huffington Post, a political and news blog ,the ad was actually created by Philip de Vellis, who had been a Internet consultant for an Ohio Democratic senate candidate. He had also worked for a Democratic Internet consulting firm. De Vellis made his own blog post in which he acknowledged creating the video:
"I made the "Vote Different" ad because I wanted to express my feelings about the Democratic primary, and because I wanted to show that an individual citizen can affect the process. There are thousands of other people who could have made this ad, and I guarantee that more ads like it--by people of all political persuasions--will follow.
This shows that the future of American politics rests in the hands of ordinary citizens….
This ad was not the first citizen ad, and it will not be the last. The game has changed."
According to Tuesday's San Francisco Chronicle, Apple could very well bring legal action against the creator, as the company has always been very protective of the ad. But it seems to me that the ad would fall legally under the concept of parody and hence can't be pulled down by the copyright police.
BTW, it would seem that the parody was created from a digitally altered version of he commercial shown at the 2004 Macworld conference. Notice the woman with the hammer is wearing an iPod.
Monday - March 19, 2007
Why FishbowlDC is the first blog I read online each day
A full helping of FishbowlDC goodness. Here's what I saw as keepers today, just from Taking Out The Trash:
Friday - March 16, 2007
Viacom Sues YouTube For $1Billion for Copyright Infringement
Viacom demonstrated this week that they want to keep living in the 20th century and sued YouTube for $1 billion for copyright infringement. YouTube has had a wide range of Viacom content posted by its users, but it has always pulled down the content when asked to by Viacom. (That's why the brilliant "Baby Got Back" video mashup I tried to link to for you last week got yanked.) Viacom claims that YouTube could do more to prevent the posting of its property, and hence the lawsuit.
Is YouTube and its new owner Google really at risk for a judgment of that size? Probably not. The stock market sure doesn't think so.
Although the Digital Millennium Copyright Act practically gave away the store to the big media companies, it does state that discussion board owners cannot be held liable for what its users do, as long as it makes an effort to remove items it has been requested to.
So what are the big content providers supposed to do? Ted Harbert of Comcast says he has "no clue" what Big Media should do. They can fight YouTube and tick off their audience members, or they can take the small amount of revenue YouTube would likely offer to share.
But the big issue is that Big Media is going to have to figure out how to co-exist with new broadband services like YouTube.
Does anyone here remember when the movie studios tried to shut down the VCR business back in the 1980s?
Wednesday - March 14, 2007
Supreme Court To Hear 'Bong Hits 4 Jesus' Student Free Speech Case
The U.S. Supreme Court will hear arguments Monday in the biggest student free speech case since the Vietnam War case - Frederick vs. Morse. The speech in this case was, in the words of the Washington Post, "mostly nonsensical." Student Joseph Frederick was suspended from school five years ago by high school principal Deborah Morse (of Juneau, Alaska) for holding up a giant sign saying "Bong Hits 4 Jesus" across the street from his high school as the Olympic torch passed through his town. The school district in the case claims that the student was promoting drug use. The student claims, "I wasn't trying to say anything about drugs. I was just trying to say something. I wanted to use my right to free speech, and I did it." Interestingly enough, the student received support from the ACLU and the Christian Legal Society. (The CLS is concerned that other school districts might use the case as a way of limiting religious speech.) The school board is being represented by Clinton prosecutor Ken Starr.
Monday - March 12, 2007
Questions Worth Asking (Maybe)
Saturday - March 10, 2007
Music Fans Are Doin' It For Themselves Dept. - The Music Videos "They" Don't Want You To See
While I was working on Thursday's entry about Laugh-In, I came across a couple of great mash up music videos on YouTube. These represent to me the great power of our new digital media, where people using ordinary computer equipment can take existing movie or video clips, add music, and turn them into some of the most fantastic creations.
You all, no doubt, know Sir Mix-A-Lot's hip hop hit Baby Got Back? Some of the hipper of you know that Jonathan Coulton did a slower acoustic version of the song that's been a perennial resident of the Coverville annual top 40 cover countdown.
So someone took the Mix-A-Lot video, slowed it down, and put it in perfect synchronization with Coulton's acoustic version. (And as of now, those killjoys at Viacom made YouTube take it down. As compensation, I'll give you Richard Cheese's lounge version of BGB.)
Then, if that wasn't enough, someone else took the Linda Ronstadt version of Pirates of Penzance and added Gilbert and Sullivan vocal stylings to Baby Got Back. Which is just too whacked for words! Now both of these, I assume, involve massive violation of copyright law. But on the other hand, what a great bit of creativity using modern creative tools. Is it art? Should it be legal? Is it a violation? All I can say is, "Bring it on!" (And as a final bonus, I have concert video of Coulton doing BGB.)
Gilbert & Sullivan Got Back
Richard Cheese Got Lounge Back
Jonathan Coulton Live Got Back
Thursday - March 8, 2007
You Bet Your Bippy Dept. - What The Youth of America Don't Know
The other day my colleague Bonnie Stewart was talking with some of her students and used the expression "You bet your sweet bippy!" The students looked at her with quizzical expressions and wondered what the heck she was talking about.
Somehow the students ended up talking to me about it, and I gave them the meaning and history of the word, going back to its origins on Rowan & Martin's Laugh-in from the 1960s and 70s. Bippy actually showed up while I was researching the Oxford Dictionary of the English Language. It seems that the latest update of the ultimate dictionary includes a definition of bippy. So, for Prof. Stewart's students, here is the official definition:

Bippy - "You bet your sweet bippy." Be assured, certainly. From the 1960s television show Rowan and Martin's Laugh-In.
I went on to explain that Laugh In was also the show that introduced the world to women's belly buttons (actually, the world knew about them long before Laugh In, but they weren't shown on television), and to Artie Johnson's German soldier who went around saying "Verrrrrrry interesting." Then one of the students perked up and said, "So that's where my dad got that expression!" I not sure whether they mentions bippys, but here are a few of clips from the show. They feature the Monkees, Tiny Tim, and Orson Welles.
The Monkees
Tiny Tim
Orson Welles
Tuesday - March 6, 2007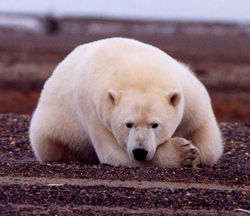 Activism Works Better When You're Protecting Something Cute
Succeeding with an activist public relations campaign is a lot easier when your cause is cute.
Kassie Siegel, director of the Center for Biological Diversity's climate, air, and energy program, started pushing to have the polar bear listed as an endangered species in 2004 as a way of drawing the public's attention to the problem of global warming. Under Siegel's leadership the Center had both a petition drive of scientists and a lawsuit. Along with all of the scientific arguments, the campaign also pushed what Siegel calls the "pop cultural iconic status of the polar bear."
That portion of the effort was apparently successful. Consider what the Washington Post wrote in an editorial on the topic: "Cuddly, loveable animals – even ferocious ones that can kill a seal with a single blow of a monster-strong paw – have a way of precipitating steps that non-furry creatures just can't manage." After two years of work, the Environmental Protection Agency proposed listing the polar bear as a threatened species. The polar bear still has to make it through a series of hearings before it becomes officially endangered, but the campaign seems to have been a success.
Friday - March 2, 2007
Questions Worth Asking (Maybe)

Wednesday - February 28, 2007
For My Ethics Students (and Anyone Else Who's Interested)
Here are the promised readings on photo ethics and media bias for my ethics students. (Anyone else interested is welcome to follow along.)
---